OPPORTUNITY
The SCSUG Educational Forum is held every year and is one of the most cost-effective learning opportunities available to you!
The Executive Committee is offering scholarships to full- and part-time college undergraduate or graduate students to attend the 2011 educational forum in Fort Worth, Texas.
ELIGIBILITY
All students who meet the following eligibility requirements are encouraged to apply:
Must be a full or part-time college level student using SAS in coursework or on the job
Must be able to provide a professor's name and contact information as a reference
Must be enrolled in classes at the time of the conference (Fall 2011)
Must be able to provide a valid student ID or proof of enrollment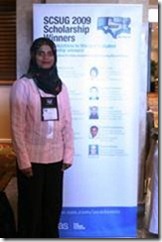 Students are encouraged, but not required, to submit at least a 20 min paper/presentation. Those who submit a paper/presentation and are accepted will have first priority to student scholarships.
Applications will be accepted starting in August 2011 via the online application.
Student Scholarship Awards include:
Waived Registration Fee
Hotel Accommodations (two nights)
One Pre-Conference Training Session
Travel and meals are not included.
Go to the online scholarship application now!
QUESTIONS?
E-mail Lizette Alonzo at lizette_alonzo@sra.com
Note: Award recipients are expected to attend all days of the conference and volunteer at the forum.
SCSUG 2011 Student Scholarship Flyer (1608)